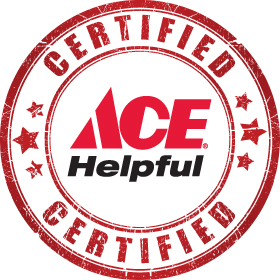 Colonial Building Supply and Colonial Ace Hardware are proud to be part of the Ace Hardware Family.
Ace Hardware was founded in 1924 by a small group of Chicago hardware store owners to allow individual stores to purchase merchandise in bulk to save money and buy at the lowest possible prices. This partnership enabled even the smaller stores to compete effectively at retail despite larger stores in their market.
In 1973 Ace Hardware was sold to its retailers, making it the largest hardware cooperative in the world. Ace Hardware now has over 4,800 stores in 60 countries. With only a few exceptions, each of these are locally owned and operated.
In 2017, Ace ranked "highest in Customer Satisfaction among Home Improvement Stores for the Eleventh Consecutive Year," according to J.D. Power and Associates.