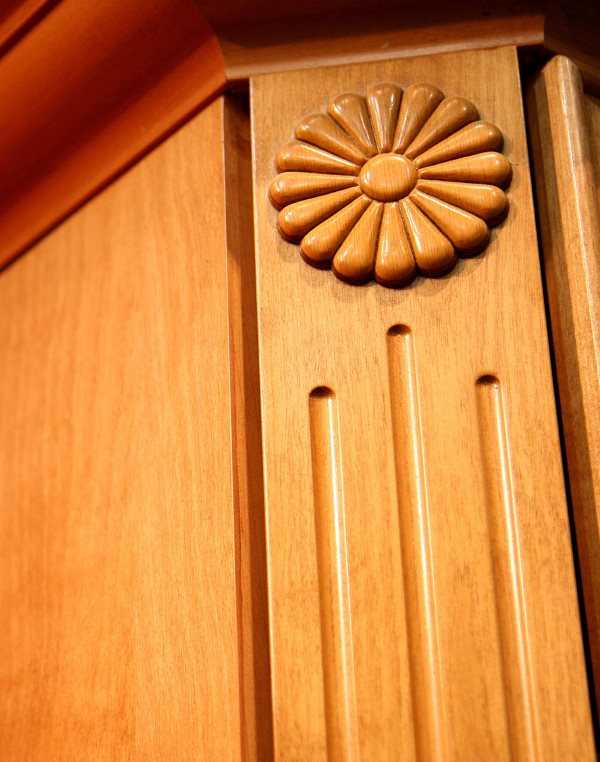 Whether you're looking to replace existing moldings, update to a new look, or build new, trims and moldings give your home a finished look. We carry a wide variety of casings, door headers, crown moldings, and even plinth and corner blocks! Ask your sales representative about all of our delivery options when ordering your materials.
Moldings, Baseboards, and Casings:
Available in a variety of materials and patterns, Colonial Building Supply has just the right products to give your home the look you've been searching for. Our custom door shop can advise you on interior and exterior doors, windows, garage doors, and even installation! Ask our sales representatives about window and door jambs, door headers, and accent pieces. We have rosettes, plinth blocks, and more! Trying to match an existing piece? Ask about custom millwork options. Catalogs containing patterns for moldings, baseboards, and casings can be downloaded below and are available in store.
Material Choices:
MDF- a sturdy engineered wood product, MDF provides a smooth finish that is easy to paint. With dozens of patterns to chose from, you're sure to find just the right one to match your style. Most MDF casing comes pre-primed so you have one less step in installation!
Finger Jointed Pine- hardy and solid, finger jointed pine is an excellent trim for every room of your home. Our beautifully milled patterns are perfect for stains or paint, and are available in a variety of sizes. With lengths up to sixteen feet, installation is easier than ever.
Knotty Alder- providing a rustic and warm look, knotty alder is strong and durable. Want the alder without the knots? Ask our sales representatives about the availability of clear alder.
Specialty Woods- for a unique look, ask our experienced team about specialty woods. Many varieties are available, including hemlock, poplar, oak, maple, cherry, walnut, hickory, mahogany, and many others!
Flex Moldings- manufactured right here in Utah, Flex Trim is a flexible molding perfect for curved windows, doorways and crown molding. Ask our sales representatives about patterns, colors, and ordering information.
Beadboard and Shiplap:
Add dimension and personality to any space with accent paneling. Wainscoting, board and batten paneling, and accent panel walls are easier to make than you may think. Call or come in to our store to speak to our expert staff about ways to add more style and character to your building projects.
Beadboard- available in multiple styles, this easy to use board offers a quick and simple way to spruce up any space. With a smooth finish, our MDF beadboard is easy to cut and install. Use it on walls, ceilings, cabinets, and even furniture pieces.
Shiplap- wide interlocking pieces give this trim a casual but finished look. Be sure to ask our sales representatives about our tongue and groove options, as well as availability and pricing for these beautiful accent pieces.
Handrail, Newel Posts, and Balusters:
No staircase is complete without rails. At Colonial Building Supply, we can supply everything from the most basic to highly decorative pieces. Have a difficult corner to work with? Not a problem! Our selection of handrails and fittings makes it easier than ever to create a beautiful and functional piece that will last for years to come. From simple to sophisticated, let us help you design the stair rails you've always wanted. Come into our store to see our display staircase.
Material Choices:
Turned Balusters- beautifully milled out of alder, maple, or oak, our balusters can be stained or painted. With a large variety of styles and sizes, we have just the right piece to fit your staircase.
Metal Balusters- available in a variety of finishes including oil rubbed bronze, black powder coated, and copper veins, our metal balusters are both beautiful and functional. Ask our sales representatives about matching shoes and knuckles for our metal balusters.
Newel Posts- like our wood balusters, newel posts come in a wide selection of styles and sizes. We have turned newels as well as box newels with a variety of caps, wraps, and trims. Rosettes, treads, and risers are also available.
Handrail and Fittings- from a simple round rail to a highly decorative piece, Colonial Building Supply can provide just the right handrail for your project. Our expertly milled railings are perfect for paint or stain. Fittings are ordered to match the style of rail you want, so you can be sure everything will look great together!