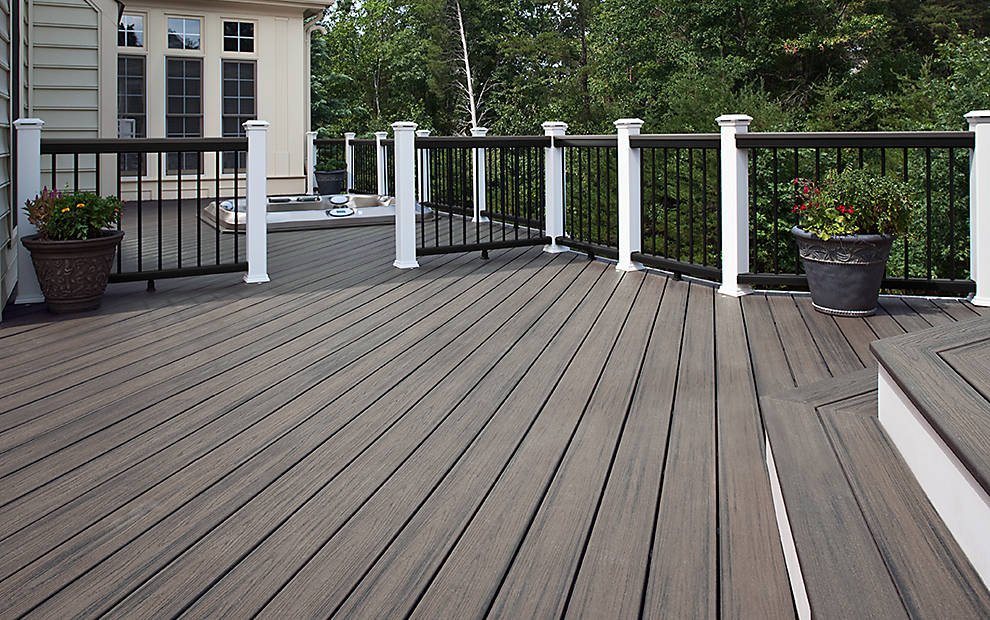 A sturdy deck can add beauty and utility to your yard. Barbeques, family parties, and relaxing in your yard can all be improved with a well made deck. Colonial Building Supply carries a variety of decking materials from newer composites to traditional wood. Ask our friendly sales representatives about concrete forms for post bases as well as installation tools and hardware, materials for pergolas and stairs, and stain options for natural wood.
Natural Wood
Natural wood has beautiful rich grain and is surprisingly affordable. Choices such as redwood and cedar are naturally resistant to rot and insects. However, natural wood can dry out, warp, and crack if not properly installed and maintained. Call or come in to our store to ask our sales representatives about staining and sealing options for natural wood decks.
Composite
Engineered with a mixture of wood fibers and plastics, composite decking is durable and low maintenance. With a variety of lengths and finishes available, it's easy to create everything from simple square decks to intricate curved designs in beautiful patterns and colors. Our composite decking materials also come with a warranty of up to 25 years. With matching fascia, hardware, and railing options, it's easy to create a stunning, long lasting deck.
Railing
Railings are not the first thing many people think of when planning their deck, but they are an important feature that adds safety and character to your deck. Our railing choices complement all of our decking materials, and are available in a variety of sizes and colors from leading manufacturers Trex and Fortress Railing. Whether you're interested in curved rails, strait rails, or even stair pieces, our railings will add beauty and quality to your deck.
Lighting
Adding deck lighting increases safety and extends the usable hours of your deck. Low power, all weather LED lights are perfect for every deck and are available in many styles and configurations. Many of these lights can be built into your railings and stairs to increase safety while maintaining the beauty and visual aesthetic of the deck. At Colonial Building Supply, we also carry many options of outdoor yard lights, house lights, and motion sensor lights to add safety and functionality to your home.
Outdoor Entertaining
With a wide selection of grills, lawn and garden items, and even outdoor furniture it's easy to get everything you need to enjoy the outdoors at your home. Call or come into our store for questions on availability of items as well as free advice on lawn maintenance, pest control, and more from our friendly staff!