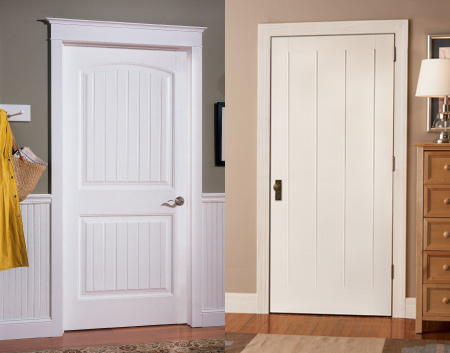 When choosing an interior door, it is important to keep in mind where the door will be used. Interior doors are available in a multitude of styles and materials, each with its own intended use and benefits. For example, Louver doors offer good ventilation and are often used on closets and pantries, but would not be appropriate in other rooms that may require better thermal or sound dampening properties. With a variety of styles to choose from, and our own in-store shop, our experienced salesmen can help you match the right door to the right room in a style that suits your tastes and home.
Solid Core vs. Hollow Core
Solid core doors are generally higher quality than hollow core, and have a better look and feel. Solid core doors are heavy and made of composite wood faced with beautiful finishes. They also offer higher fire ratings, as well as better insulation and sound dampening properties, than hollow core doors. Hollow core doors are light weight and easy to install while offering the same beautiful finishes as solid core doors. They are available at a lower cost, and are often used in closets and pantries where solid core's benefits are not necessary.
Sliding barn doors are quickly gaining in popularity. The door is hung from a track and slides open or closed. Because there is no swing, they can be used in tighter spaces than traditional hinged doors. A variety of door styles can be hung from the track, giving your room a unique look. Barn doors can be made from everything from a traditional door slab to an actual barn door! At Colonial Building Supply, our expert salesmen can advise you on all door hardware options, including hinges, knobs, and more!
Custom Made for You
With our in-store shop and experienced staff, Colonial Building Supply is dedicated to giving you the best experience with your new doors. With a large variety of styles, materials, and finishes, it's easy to find the perfect doors to fit your home or business. Customize your doors with options such as glass inserts, specialty hardware, and more! To ensure our customers have the best experience, we offer professional delivery and installation services. We're happy to send one of our expert installers to take measurements of your door or door openings to ensure the perfect fit. Visit our store showroom to see many of our products and speak to a sales representative about all our door options.