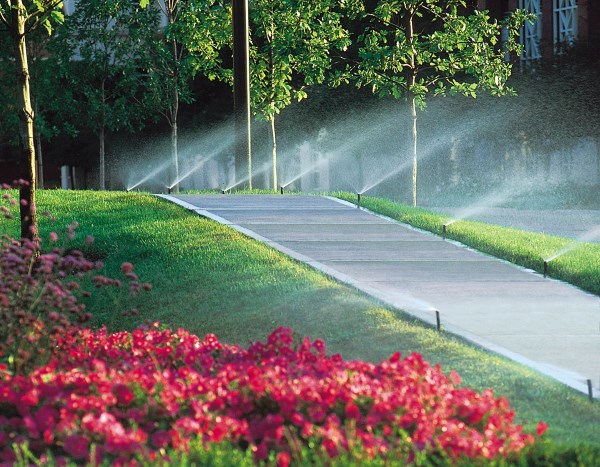 At Colonial Ace , we understand that your yard should be a place to relax, play, and grow. Let us help take some of the work out of maintaining your lawn and gardens with our extensive collection of irrigation products. Whether you want a sprinkler system for your lawn or a drip system for your vegetable garden, we're here to help. Our experienced sales representatives can also advise you on watering schedules, fertilizer options, and other tips and tricks to keep your yard beautiful all year.
Sprinkler Systems
Timers- take the hassle out of scheduling your sprinklers with a reliable timer. Adding a timer to an existing sprinkler system is easier than you think. With our collection of timers, sprinkler wire, and accessories, we can help update your irrigation system. Come in to our store to see all of our timer options and speak to an expert on installation and maintenance.
Sprinklers- from simple pop-up heads to powerful impact rotors, our extensive sprinkler selection has everything you need for your yard. Our drip systems are handy for gardens and hard to water areas. Ask about risers and adjustable spray nozzles for corners, shrubs, and best coverage options.
Pipes and Fittings- whether you're working with PVC, galvanized, or ABS pipe, our extensive selection has you covered. With pipes and fittings from ½ inch to over 2 inches, Colonial Ace has everything you need for installation and maintenance.
Valves- from plastic to brass and automatic to manual, we have valves to fit your needs. We also carry manifolds, diaphragms, and solenoids to repair existing valves and add to your sprinkler systems.
Tools- we make installation simpler by offering a wide variety of irrigation tools to install, repair, and maintain your sprinkler systems. With everything from valve keys and pressure gauges to cutting tools, glues, and kits, you're sure to find just what you need for your project.
Accessories- valve boxes, sprinkler flags, filters and adapters are all available at Colonial Ace. We also carry a large selection of garden hoses and accessories for spot watering smaller areas and many other uses. Come in to our store to browse our broad collection of irrigation products and ask one of our sprinkler experts for more tips and advice.
How to Get the Best
No matter what your irrigation project may be, we're here to help you plan and make it happen. A little prep work goes a long way in taking care of your lawn and garden. Here are a few tips from your friends at Colonial:
Take measurements and pictures of the areas you are working in. Whether you are planning a new flowerbed, adding to an existing sprinkler system, or repairing an existing line, having good measurements will save you time and hassle.
Browse our product selections and talk to our experts. With everything you need to build and maintain your sprinkler system, Colonial Ace also has expert staff to give you the best advice. Call or come in to our store to speak to one of our veteran sprinkler specialists.
Draw up a plan. If you're not sure where to start, having a map of your yard can help determine where to run sprinkler lines, avoid utilities, and make the most of your space. You should always be sure of the location of utilities before digging. In Utah, contact Blue Stakes to have your utilities marked before digging. Stop in to see us and pick up a free sprinkler design and planning guide.
Frequently Asked Questions
What is the best time to water? Avoid watering between 10am-6pm. Moisture loss when watering is much higher during these hours and is prohibited in many cities. Watering late at night can leave grass wet for too long and promote mildew or fungus. Watering early in the morning is best as it gives your lawn a chance to absorb water before the sun and heat evaporate it away, but doesn't allow it to stay wet for too long.


How often should I water my lawn? Frequent, light watering causes the grass to grow shallow roots and sets your lawn up for trouble in hot weather. Instead, you should water deeply and less frequently. Generally, you will not need to water more than twice a week, even in the hottest temperatures. During the spring and fall, when there is more rain and cooler temperatures, you can decrease your watering time.


My water pressure is very high, what can I do to protect my sprinkler system? In Davis County, most sprinkler systems will be attached to the Weber Basin irrigation water system. In order to get this water where it needs to go, the water is pressurized. This could potentially cause problems, but installing a pressure regulator, action filter, and using higher quality parts will help your irrigation system last for years to come. Using schedule 40 or higher PVC pipe will ensure your sprinkler lines are better prepared for Utah's weather changes as well as standing up to the high pressure of Weber Basin irrigation water. It's also helpful to choose the best sprinkler types for different areas. Rotary sprinklers are useful for large areas while spray heads are excellent for smaller areas. For the best advice on your sprinkler system, call or come into our store and speak to one of our sprinkler experts.


How can I convert my manual sprinkler system to an automatic system? It's easier than you might think to convert an established sprinkler system from manual to automatic. Some manual valves can be converted to automatic valves. Others are easily replaced with new valves. It may be necessary to run additional pipe to different zones of your yard in order to create a central control area in a sprinkler box. Placing all your valves together with a large manifold in a sprinkler box also makes future maintenance easier. Your new automatic valves can then be wired to your home or garage with the timer control placed indoors or outdoors. Adding a sprinkler box, timer, and manifold to your current system is easy with Colonial Ace's selection of parts and tools. Come in to our store for more tips and advice about converting manual sprinklers to automatic.


I have a break in my sprinkler line. What the best way to repair it? With the high water pressure from Weber Basin irrigation water, breaks occasionally happen. If your sprinkler system has lost pressure, has a geyser or an overly saturated area it may be due to a break in the sprinkler line. There are many options to repair a broken line, some only require minimal digging. At Colonial Ace, we carry repair couplings, glues and primers, and many other products to make any repair easier. Come into our store to browse our selection and get expert advice on your specific project.