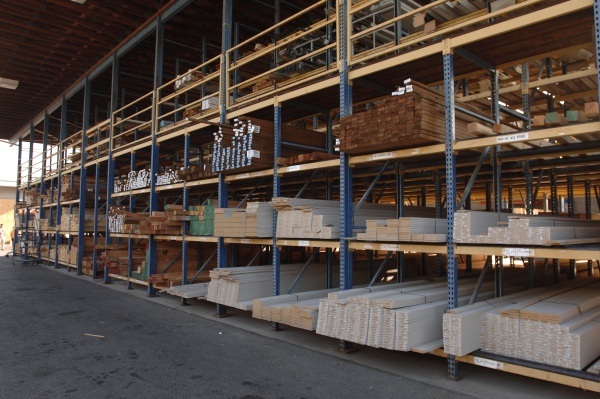 Colonial Building Supply has been supplying lumber and other building materials to Utah and surrounding states for over 35 years. We are constantly working to provide our customers with the highest quality materials at the best prices. Whether you need natural lumber, treated lumber, or Engineered Wood Products (EWP), let us help you find the perfect products to fit your needs. Call or come in to our stores to speak with a sales representative about all of our lumber options and to get tips and tricks for working with wood products.
Natural Lumber
Natural wood products can be used for strength in building, accent pieces in floors and ceilings, and even landscaping. With many varieties in species, grades and dimensions, there are virtually endless uses for natural, rough sawn lumber. At Colonial Building Supply, our knowledgeable staff can give you advice on the best products to beautify and preserve natural lumber.
Pine- with a variety of sizes and grades, pine is the most versatile lumber we carry. With lengths up to twenty feet in stock, we're sure to have just the right size and style to fit your building needs. Longer lengths may be available on request.
Redwood and Cedar- naturally resistant to decay and insects, and with beautiful natural colors, these woods are strong and versatile. Both are highly stainable which makes them ideal for all types of projects. Available in a variety of sizes and lengths, redwood is excellent for construction, decking, and exterior furniture while cedar is perfect for siding and fences.
Hardwoods with a naturally dense structure, hardwoods are ideal for cabinets, flooring, and furniture. With species such as Oak, Alder, Poplar, Maple, and more, it's easy to get the right hardwood for your projects at Colonial Building Supply. Ask our sales representatives about sizes, pricing, and availability of boards, sheet goods, and even trim pieces.
Specialty Woods- with a variety of suppliers and manufacturers, Colonial Building Supply can find just the right lumber products for your projects. Ask our experienced sales representatives about special orders on additional sizes, products, and species of wood.
Treated Lumber
Treated wood products available at Colonial Building Supply come in a large variety of styles and dimensions. Treated lumber has been processed to preserve the wood and repel insects, smoke, heat, and/or rot. Preservative treated lumber is best used for contact with the ground or places where insect activity is prevalent. Fire retardant treated lumbers are processed to prevent the lumber from igniting when exposed to heat and flames. They are most often used to meet building codes and add extra safety features to both residential and commercial buildings. We carry both preservative and fire retardant treated lumbers. Ask your sales representative about sizes and pricing for dimensional lumber as well as treated plywood and other sheet goods.
Engineered Wood Products (EWP)
Engineered Wood Products (EWP), also called composite wood, man-made wood, or manufactured board, are made by binding smaller pieces of wood together. EWP include items such as trusses, plywood, MDF, particle board, and OSB. Because of the manufacturing process, these products are dense and strong. Available in a large variety of sizes and applications, our lumber yard is ready to help tackle your next building project with whatever products you need.
Plywood- available in a variety of thicknesses and grades, plywood is created from thin sheets of wood pressed together with adhesives. Our plywood products are available in a variety of species including pine, birch, maple, oak, and alder. Tongue and groove, oriented strand board (OSB), and marine grade plywood are also available.
Particle Board and MDF- made from wood fibers bound together, our MDF and particle boards are strong and durable. Available in sheets, pre-measured shelving, and even trims and moldings, we're sure to have just the right product to fit your needs.
Glu-Lam, LVL, and More- strong and sturdy, these products are perfect for beams, columns, and many other structural applications. With widths as small as 3-1/8 inches to over 6 inches and heights starting at 7-1/4 inches, it's easy to find just the right fit for your project. Our beams and joists are available in lengths by the foot up to 60 feet. Ask our experienced sales representatives about sizes, availability and pricing.
Simpson Strong-Ties
For more than 55 years, Simpson Strong-Tie has focused on creating structural products that help people build safer and stronger homes and buildings. Its structural products are recognized for helping structures resist high winds, hurricanes and seismic forces. The company's extensive product offering includes engineered structural connectors, fasteners, fastening systems, lateral-force resisting systems, anchors and products that repair, protect and strengthen concrete.
These are just a few of the lumber products available at Colonial Building Supply. For more information on sizes, pricing, and availability, call or come in to our store.